your way to us – Well comb wigs:

4.60 from 5 points, based on 5 votes cast.
Loading...your way to us
To find our business in Dusseldorf Unterbilk.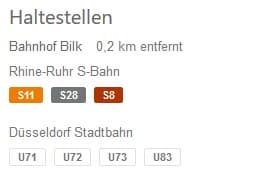 your way to us – Company Well comb wigs directly on Bilker Station
The district borders the districts of Carlstadt, Stadtmitte, Friedrichstadt, Bilk, Hamm and harbor
Unterbilk located on the main road 1, which is guided by the Rheinufertunnel.
To the S-Bahn lines S 8, S 11 and S 28 is Unterbilk by the S-Bahn stations Bilk and Voelklinger road with directions Neuss, Kaarst, Mönchengladbach, Dormagen, Cologne, Bergisch Gladbach, Central Station, Gerresheim, Mettmann, Wuppertal and Hagen connected.
The rail lines U71, U72, U73 and U83, the tram lines 706, 707, 708 and 709 and bus lines connect Unterbilk with other districts.
Bilker station is also currently on the tram towards downtown, Hamm, Südfriedhof, Volmerswerth, Brehmplatz, Heinrich Heine University, Unterrath, Holthausen Ratingen approached.
Some of these rail lines will be integrated in the future in the Düsseldorf rail network.
Bilker station is to be promoted to the local train station. Those: https://de.wikipedia.org/wiki/Unterbilk