Special sizes large and the small head circumference
Search before visiting the wig specialist studio Dusseldorf Well comb a possible wig model and hair color catalog for large and small sizes Wig Collection Gisela Mayer from.
Wigs in small or large so-called special sizes are ideal for patients, where no standard wigs size fits.
Even small wigs size of 51cm, see the WELLNESS program, in human hair and synthetic hair in Gisela Mayer Wigs, which is second hair in best quality.
Whether for medical or fashion reasons, with us you will always find your perfect wig.
GISELA MAYER are specialists for wigs and hairpieces and offer you the absolutely most diverse range throughout Europe.
High-quality and trend-oriented.
The whole wigs and hairpieces offer wig brand Gisela Mayer online.
So you can be sure "your chosen model is ready to try"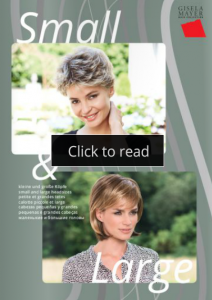 Special sizes large and the small head circumference of the company Gisela Mayer
Your Internet search resulted in us: