Temporary hair loss as side effects of cytostatics.
The side effects of cytostatics
As part of a cancer treatment, chemotherapy plays an important role. Using chemotherapy are prevented cancer cells to grow further and to their cell division. Further spread of the disease can be very reliably prevented so in most cases. In chemotherapy, called cytotoxic drugs are used. Cytostatics are a poison, prevents that all fast-growing cells to its further growth. In addition to the cancer cells there are, unfortunately, healthy cells with rapid growth and a high cell division. These include besides the blood-forming bone marrow cells, the mucous cells in the mouth, Stomach and intestines and cells of the hair roots. The hair loss is therefore one of the most common side effects associated with chemotherapy.
The hair fall out more?
Cytostatics under chemotherapy can cause hair loss. But this need not always be the case, and in any. There are quite even patients, showing almost no side effects associated with chemotherapy. Others are equally affected by several of the possible side effects. The side effects of anticancer drugs are not everybody equal, because the type and intensity of side effects depend on:
the type of cytostatics
their dosage
the individual assessment of the patient
whether to expect from you with the loss of hair, can estimate your medical practitioner before starting chemotherapy. Talk to him about it and leave as early as possible issue a prescription for a hair replacement, if your doctor assumes, that you have to expect this side effect during the course of chemotherapy.
Chemotherapy-induced alopecia
A conditional by chemotherapy hair loss is reversible in most cases. So you will have to arrange most likely only temporary with hair loss. Nevertheless, it is very important to bridge this time with a good hair replacement, because you will get to their quality of life and their joy of life. In most patients, the hair loss starts in the period from 12 to 30 Days after the start of therapy. Only a few patients, the hair loss starts only after the end of chemotherapy.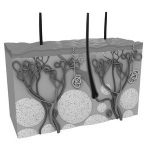 Approximately 1 to 2 Months after the end of treatment the hair catch mostly to grow again. The hair loss in chemotherapy, depending on the patient, cytostatics used Dosage and be completely different pronounced. From a modest level of hair loss over the complete loss of scalp hair or even the additional loss of eyebrows, Eyelashes and all body hair, anything is possible. Find out just in time with your doctor about the likely effects of chemotherapy.
prepare before the use of cytotoxic drugs on hair loss
Does your doctor expects, that when you chemotherapy will cause hair loss, you should deal early with the consequences of this side effect on their psyche and their quality of life. Even if the hair loss caused by cytostatics in most cases is only temporary, the loss of hair will burden and affect their self-esteem and quality of life. Let therefore as soon as possible a prescription for a hair replacement by your doctor exhibit and contact to us with confidence. Wigs Well comb is a contractual partner of the health insurance and a competent and experienced partner, when it comes to the topic of hair replacement.
Side effects of anticancer drugs can be hair loss

Your Internet search resulted in us: