Second hair Dusseldorf – Well wigs comb Bilk
A specialty shop for wigs, where you will be advised by competent employees? Do you want to wait a long time without, be informed about the benefits of different wigs? And attach great importance to a wide variety of wig models, underline your unique personality? Then you are exactly right with wigs Well comb. We are one of the leading suppliers of hair replacement Dusseldorf Bilk. Take a look at our shop over, to satisfy themselves of our high-quality wigs and our excellent service!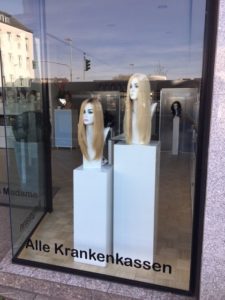 Well wigs comb - the alternative to wig purchase on the Internet
Today you can order wigs course in different online stores on the Internet. But that is in most cases not got a really good idea is: Indeed, it is impossible to judge exactly, as the second hairstyle actually sitting. Even less to determine when buying online, whether the wig feels great against on your scalp (Quality of this wig base). And the choice of a type-specific model with photographs and product descriptions is a real challenge, on the fail many customers at the end. Unfortunately, many customers do not have infinite time, for example in chemotherapy, the texture, Feel and color of wigs of all kinds can therefore only judge correctly, if you can handle the hair and View.
Come best to shop for wigs, Second hair comb Dusseldorf Well. Here you will find a huge range of Zweitfrisuren in all hair colors and lengths. Take the expert assistance of our dedicated team to complete and comprehensive advice. Try Zweitfrisuren out and see directly, how they relate to you. Certainly you will find us a suitable model. All you need for this first appointment is a prescription and an appointment you under 0211 487278 can book.
Benefit from years of experience and excellent service
In our spacious and modern sales room you feel as we are sure immediately at home. We know, that the wig purchase possible trust. This is especially true, if you need a second hairstyle, because they suffer from hair loss due to health problems. For this reason, we introduce the personalized service while maintaining the utmost discretion by. So you can experience buying your second hair style in a relaxed atmosphere. This will create the best conditions for a good buying decision. We are always guided by the wishes of our customers: If you want to buy hair replacement, of your natural hair confusingly similar, we find a suitable wig.
Similarly, we are pleased to offer hair replacement in Dusseldorf at, allows you to selectively change your type. So you can also occur at parties or on other occasions with your wigs from cosmetic reasons, always different. With us, you never have to wait long. You can then call for an appointment in advance like our recommendation.
Constant availability and immediate response to chemotherapy
rely on your specialist for hair replacement Dusseldorf
If you have to undergo chemotherapy, the probability of complete hair loss big. It is a common side effect, caused by the cell-killing effect of the chemotherapeutic drugs.. But even the most experienced doctors can not predict with absolute certainty, whether you will be affected and when to start exactly the hair loss. For this reason, many sufferers are surprised, if after the start of your chemotherapy they lose hair. Within a short time, then the complete scalp hair is lost.
We know from experience fairly accurately when it can start with your hair loss. This we will discuss at an initial consultation. In this emergency, you can at every day- and if necessary also turn night to us. We have set up an emergency number. We will help you as an important step to maintain your self-confidence and provide you quickly a suitable second hairstyle in Dusseldorf available. We really hope, that we can also support you with this service, to come up with the consequences of a chemotherapeutic treatment better right. You might want a precaution even before the start of therapy to us which we thought was coming to the better way is. Then we seek together a wig for you, so you are prepared for emergencies.
choose and try out wigs in peace
Check out together with us in our shop and discover the wide variety of wigs. We stop for a few models with short haircuts, modern bobs and long hair ready, you will delight. You score points with their absolutely natural look and drape the hair. Whether for real- or synthetic hair wigs are high-quality real gems. After making a first pre-selection, try out the models for us. If you are dealing for the first time with the issue Zweitfrisuren, They are still inexperienced in the setting up of wigs.
Wig buy Bilk
We'll help you and show you, how best to position your second or hairstyle. is set up. Moreover we explain, what it takes to seat a wig. If you are interested in a wig model, we should not have in stock, we order it for you in a maximum 2 Days or via Express, this model is ready for delivery..
Services when purchasing hair replacement in Dusseldorf
If you have found your desired model, we cut your wig. It is often necessary in this context, to cut the fringe or cut the tips. For our customers, buy a wig for medical reasons, We offer a special service: If you wish, we accept the application for a grant on your statutory or private health insurance. For this we only need the prescription of your doctor, the prescribed you a second hairstyle. We hope, that we can help you through this service during this difficult time a little.
Taking care of your hair replacement Dusseldorf
A wig always represents a major purchase. Definitely because you want as long as possible. To ensure this, we advise you introduce to a professional for handling a wig and its maintenance. We would like to take on this task. We wash your second coiffure of real- or synthetic hair in a particularly thorough yet gentle manner. Then we dry the wig, so that damage to the hair are excluded. We tweak your second hairstyle. Well comb wigs Dusseldorf Bilk
Wigs – Second hair emergency aid in chemotherapy
Your Internet search resulted in us: