What is a CE certification:

5.00 from 5 points, based on 2 votes cast.
Loading...
Wigs now with CE certification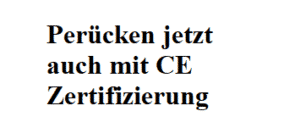 Only the best is good enough for Dening wigs in Dusseldorf …
Second hair from Dening Hair stands for highest quality.
It should be look natural and comfortable to wear, but also offer the end user the same security.
Only the best is good enough and therefore all have BELLE MADAME wigs and hairpieces as well as all MANAGER TOP Hair Systems for men
now receive the CE mark, d.h. they are classified as medical devices according to EU Directive 93/42 / EEC.
Council Directive 93/42 / EEC of 14. June 1993 Medical Devices is one of three medical device EU directives and is referred to in Germany and Austria for short as Medical Device Directive. It is the most important regulatory instrument to demonstrate the safety and the medical and technical performance of medical devices in the European Economic Area.
The CE certification is subject to strict requirements regarding materials and production.
This is the guarantee, that the products for end users are functional and safe.
As a manufacturer Dening Hair declares on own responsibility that the wigs, Hairpieces and hair systems with the essential requirements of the Medical Device Directive.
Rights in the text by Hamburg