Wig on prescription Dusseldorf:

5.00 from 5 points, based on 3 votes cast.
Loading...Wig on prescription Dusseldorf
– A Attested by your doctor Wig.
well comb.de wigs Partners of all health insurance!
A request the performance of your health insurance company is very customer-friendly furnishings with us: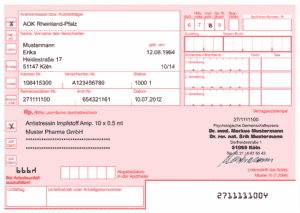 If you suffer from disease-related hair loss, ask your doctor to issue a prescription for a wig. In particular, cancer patients, who have to undergo chemotherapy, or people affected by Alopecia Areata, lose their head hair partially or completely for a certain time. Zweitfrisuren regarded as aid, subsidizes the purchase of health insurance or is completely covered.
But you should submit the recipe in no case on their own in their private or public health insurance. We work with all German funds together and assume applying for a grant at cost like for you. Our comprehensive service provides an excellent argument for a wig on prescription Bilk.
The advantages of our service
If you opt for a wig on prescription in Bilk, save yourself the pre-financing your second hairstyle. This requires, to give us your recipe early. Ideally, you have the prescription for this resource already to your first appointment with. In this context, we have another tip for you: Take our advice service if possible already in claim, if your hair loss is not well advanced.
It recommends, for example,, select a wig before the start of chemotherapy. Then we can choose a second hairstyle together with you, the your original hair style looks very similar.
A co-payment may be worth
If you choose with our support a wig on prescription Derendorf, provides an exclusive models of high-quality human hair is an excellent acquisition. This is especially true for customers, their hair loss will be expected to permanent. Such a second hairstyle looks absolutely natural and accompany you for years. You can use these wigs as wash real hair and style.
The level of co-payment of health insurance fall differently from high. If the amount is not quite sufficient, to cover the cost of your wig, worth an own co-payment. Finally, you wear your wig every day and enjoy a perfect two hairstyle the pleasant feeling, Looking good.
cost of consultation:
we are a monetarily oriented business.
1. A consultation is always free when buying a wig with or without a prescription.
2. A consultation with no purchase is with 52 € calculated.
For more questions to process you are welcome to make an appointment
seek or a short info via phone by calling 0211 487278 ( Tuesday to Friday between the hours of 10 – 14 Clock )
Wig on prescription – Wig shop Dusseldorf
Wig because of chemotherapy