Wig on prescription Meerbusch:

5.00 from 5 points, based on 2 votes cast.
Loading...Wig on prescription Meerbusch
Wenn Sie Meerbusch ein Perückenfachgeschäft suchen kann es schwierig weden.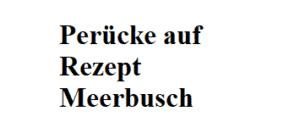 but it is possible thanks to a good road connections with the car already in 15 to be minutes from us.
Plenty of parking directly opposite the Dusseldorf Arcaden.
Beim kauf einer Perücke zahlen wir gerne die Parkgebühren für Sie. therefore bring your parking ticket with our business.
What's Next: Sie brauchen sich von Ihrem Arzt lediglich das Rezept ausstellen zu lassen. Ihre Krankenkasse in Meerbusch leistet finanzielle Unterstützung bei Haarverlust z.b. by chemotherapy.
We the company Wigs Wellkamm.de in Dusseldorf take over the entire settlement with the health insurance.
All we need is the recipe.
With this support, your health insurance, it is easier to your hair replacement in our.
If nevertheless raises questions?
Questions directly Tel. 0211 487278 Tuesday to Friday from 10 – 14 Clock and all other times like in emergency services

Wig on prescription Meerbusch information and showroom at Wellkamm.de In Dusseldorf