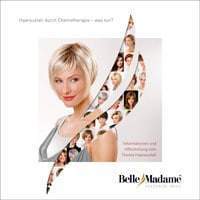 Why or why Medical wigs Dusseldorf ?
What is different!
Dear Interressentin,
Dear patient,
Anyone who loses hair or. lost, knows just how it is and understand the circumstances very carefully.
We have recognized this problem and know, how great can be our help for you.
A hair replacement is for hair loss sufferers always a difficult issue.
Disease-related hair loss for example due to chemotherapy is almost always fast and makes you 100 %.
We are of the opinion, a hair replacement should be as unobtrusive as well as high quality as possible.
Health insurance companies pay for the cost of your hair replacement or. for Fashionable High-quality wig usually only one
fixed portion and private health insurance companies to i.d.Regel 1000 € which must always be asked for your health insurance in individual cases .
Wigs Wigs from professional studio?
To use our service, we also have at oncologists as well as in specialty hospitals such as University Hospital Dusseldorf,
Sana Clinic Gerresheim and St. Mary's Hospital in Dusseldorf to name a few important to call on medical wigs Info brochure designed.
Should it not be possible for you, to come to our Zweithaarstudio, We are happy to provide you at your home, inter alia in the clinic.
Them until then, take care your
Wig Business team corrugated ridge
Düsseldorf Derendorf
Our core time.
Tuesday to Friday 10 – 14 Pm Tel. 0211 487278
Saturdays – Monday emergency aid ( Emergency phone on weekends and evenings ) Tel. 0176 10090640 to reach
Medical hair replacement – Health insurance contract supplier according to § 126 contracting party ( all ges. The box ) and private patients. We love to take over all the paperwork with your insurance. So just bring your recipe for consultation or. emergency service
Medical wigs Dusseldorf Doctor prescribes wig with chemotherapy