Marien Hospital Breast Center Dusseldorf
Brustkrebs trifft Frauen und in Einzelfällen auch Männer.
But breast cancer is curable.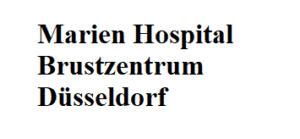 The more important it is for you as victims, Psychological located & to get medical advice
This issue should be analyzed properly and sensitively. All this makes the breast center at the Marien Hospital Dusseldorf 100%.
What can you expect from the Marien Hospital Breast Center:
1. Core service of methodically full breast surgery
2. radiotherapy
3. Hemato-oncology to psycho-oncology
Treatment quality and reliability of results Marien Hospital Dusseldorf
Das Team vom Marien Hospital Brustzentrum gewährleistet eine umfassende Versorgung gutartiger und bösartiger Brusterkrankungen so die Aussagen der Klinik. Für mögliche Operationen bei Patienten mit Fehlbildungen oder auch ästhetische Operationen werden Sie hier ausgiebig beraten.
Contact the team at the Clinic for Senology and breast surgery Marien Hospital Dusseldorf.
Clinic for Senology and Breast Surgery – Clinic for Senology and Breast Surgery
Marien Hospital Breast Center Dusseldorf
reachability 24 hours – is advanced
Telephone (02 11) 44 00-27 61
Telefax (02 11) 44 00-27 62
Email brust zentrum(at)vkkd-kliniken.de
Website www.brustzentrum-duesseldorf.de
Updated on: 24.06.2013, 18.03.2017 ( breast center Dusseldorf marie hospital )
Marien Hospital Breast Center Dusseldorf
Recommended by Well comb wigs – Oncological hospitals and practices in Dusseldorf – Wigs Dusseldorf – Well comb – Cancer counseling Dusseldorf – mamazone unterstützt Frauen mit Brustkrebs – Doctor prescribes wig in chemotherapy prescription
Marien Hospital Brustzentrum
clinic for Senology and breast surgery
breast center at Marien hospital Dusseldorf
marien Hospital brustzentrum
marien hospital
hospital Düsseldorf
Your Internet search resulted in us: