Gisela Mayer wigs look very natural:

3.67 from 5 points, based on 3 votes cast.
Loading...
Gisela Mayer Wigs, look very natural.
About Gisela Mayer.
The company Gisela Mayer in Memmingen for more than 48 Years specializing in wigs and hairpieces and mitlerweile a world company.
The range is popular all over the world. The models are designed expert team according to the latest hair trends of Gisela Mayer and manufactured with the latest techniques for you.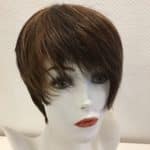 In several collection you will find everything, of high-quality monofilament models, the 100% is hand knotted with sensational Lace-front, to trendy Tress wigs with and without Lacefront.
A natural high-tech fiber, which is heat resistant, also allows blow-drying and individual styling. Gisela Mayer wigs that look most natural. Synthetic Hair Wigs Gisela Mayer.
Gisela Mayer wig in Dusseldorf
Looking for an exclusive wig with a classic or current haircut? If the second hairstyle sitting perfectly and hardly distinguishable from real hair be? Then we recommend a Gisela Mayer Wigs, as we carry in our shop. You will find a huge selection of popular wigs and our years of experience, we are absolutely convinced of the many benefits of these high quality wigs made in Germany which we hold in our showroom. wigs gisela mayer
A wig of Europe's leading manufacturer
For five decades set Zweitfrisuren by Gisela Mayer standards: Regarding natural look, superior comfort and lasting durability they are regarded as top products. There are also care properties, which are very intuitive. Across Europe, customers wear these reasons, the wigs of Gisela Mayer. In particular, the Medical Collection of established in Memmingen wig manufacturer enjoys great popularity
The perfect back hairstyle for you
We present in our business running models from the latest wig collections of Gisela Mayer. This manufacturer is distinguished by picking up on current hairstyle trends, he succeeded in innovative wig models converts. Whether a fashionable short haircut or a timeless Bob, here you get these hairstyles in the form of an exclusive Gisela Mayer Wigs. Neither you could require the broad color range open, in the quality of wigs are available: The color circle of fantasy and Standard Colors include just like the Roots Colors as an approach colors all natural hair tones
Second to none - the make of Gisela Mayer Zweitfrisuren
The wigs Gisela Mayer score with its absolutely natural look. This they owe using proven materials and their artistic processing.
For the wig manufacturing synthetic hair made solely on modern scientific knowledge and strong real hair used.
You have the choice between a Gisela Mayer wig as a fashion model Tress or as luxurious monofilament second hairstyle. wigs gisela mayer
Wigs Gisela Mayer using monofilament technology manufactured and equipped with lace fronts are considered high-end products. They are completely tied by hand. Wigs Gisela Mayer also made of synthetic hair are heat-resistant under certain circumstances. This feature allows you, to style your hair just as second and blow-dry like real hair.
wide range of accessories your Gisela Mayer Wigs
We present our shop next toiletries, such as shampoo and conditioner and brush your Gisela Mayer Wigs. You also get practical wig stand and wig caps, you can wear under the second hairstyle.
You will be happy with the first-class variety of models from Gisela Mayer wigs inspire and advise – We look forward to you!
Your Wigs Team Well comb in Bilk
Gisela Mayer Wigs particularly of course we look show it to you