Well wigs comb is the Zweithaarstudio Dusseldorf and is a partner of all statutory health insurance for wigs on prescription or as a private performance. Buy synthetic hair wig in stores on site?
Wigs buy in Dusseldorf
Well comb the hair replacement specialist in Dusseldorf.
My first promise to you: We corrugated comb wigs take our time for you even at the initial consultation.
A disease-related hair loss (Alopecia) is not only a visual problem because I really do not write s new here. Even self-esteem suffers greatly from the loss of their own hair and reduces your quality of life.
Wigs for better quality of life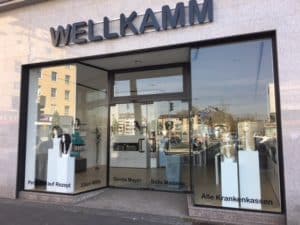 Our concern is, Also you back to active life quality and to help zest. Also unfortunately for health reasons from hair loss?
Well wigs comb in Dusseldorf helps in disease and hereditary hair loss.
also known as the wigs Dusseldorf, we know from practice and experience with this subject deal.
We from Second hair Dusseldorf can help!
A life with the wig is easier than you think and only your concerns are important to us.
The focus for corrugated comb wigs Düsseldorf the high quality and of course a professional advice in the foreground.
Our success is knowledge, quality, Professionalism and practical orientation and is in everything wigs Dusseldorf Well comb elaborated in focus.
Chemotherapy Hair Loss
Alopecia is a common side effect in chemotherapy. The cytostatics destroy rapidly growing cells. Unfortunately, the efficacy of cytostatics not only limited to the malignant cancer cells, but as a side effect also affects the blood-forming cells of the bone marrow and the hair roots. As a result of chemotherapy body hair can therefore fail. However, this does not happen always and in any case. Your doctor will inform. It's only natural, that the women concerned, but men also suffer greatly from the loss of body hair. Cloths or wigs are also effective tools. When hair loss they conceal visually and can find a new self-esteem and a new zest for life. More information on the topic on Wig on prescription or a consultation with us. Hair replacement Dusseldorf, Wigs on prescription by the company Well comb.
Second hair on prescription in Bilk – Human Hair Wigs
For many years the wig shop Well comb Dusseldorf is a competent partner, when it comes to a matching hair replacement. We carry Art- and Human Hair Wigs of the highest quality. These are based on the latest findings in material research and improved technical method of own hair hardly be distinguished. In a first detailed consultation in the corrugated ridge Second hair Dusseldorf Studio we are happy to take away your fears and anxieties, when it comes to the comfort and safety of our wearing wigs. Quality and comfort of a wig for you are important to us. We would like, that you feel comfortable with your hair replacement feel comfortable and safe.
The latest technologies and modern manufacturing processes ensure, that the hair replacement for disease-related hair loss has become so convenient and easy. Top wigs are so to an adequate alternative to your own hair. define the hair more than any other feature of the type and charisma of a person. Only those who can accept his appearance and really feel comfortable in his own skin, can confidently and positively look during chemotherapy in the future.
Second hair catalog
Get like to advance all the catalogs of our wigs manufacturer in our business from. So you can see through it to rest in a familiar environment Private
first consultation
A consultation takes about 30 to 60 Minutes and of course when buying a wig on prescription free for you. We will help you not only to find the perfect wig, but you professional support in the right choice of hair length, Hair color and style.
Feeling good is our goal
Our wig shop Well comb in Dusseldorf on bikers S Station specializes in customer, the after chemotherapy hair lose one to buy Wig.
. But even customers with Androgenetic Alopecia, diffuse Alopezie, alopecia areata, scarring alopecia and
Another who z.b. the ingestion of certain medications or changes in everyday life that can lead to hair loss among our customers. We as a specialist retailer aware of the difficulty and the great burden of the hair loss and offer our customers therefore have a full service, which should be based not only on solid business hours.
In our Perückenstudio showroom you will have the opportunity to view a wide variety of wigs. Even human hair wigs and synthetic hair wigs care are the specialist in Dusseldorf possible and do not last longer than 25 min and human hair about an hour.
The following additional topics might be interesting
How much pay for my health insurance Wig on prescription to. Another motto for us is "Your life with hair replacement should be made as simple as possible".
Hair replacement Dusseldorf – Wig buy corrugated ridge in Bilk
The wig shop Well comb contractors all legal health insurance. Our wigs or hairpieces can be billed directly by us through your health insurance, therefore, upon presentation of an appropriate ordinance or a prescription from your doctor. With the public health insurance does well comb a supply contract. –>> wig care
Quality wigs directly opposite the Dusseldorf arcades on Bilker S station because there we have plenty of space and can be easily reached by public transport.
Dusseldorf wig shop opposite Düsseldorf Arcaden. Wigs buy here.

You might also be interested in:
Buy wig
Your Internet search resulted in us: